A beautiful Lodge to gather family or friends for a great Åre experience! The apartment has a natural modern feel with traditional Swedish influences, with a balcony over viewing Åresjön (Lake Åre) and Renfjället (Reindeer Mountain). It is a spacious 135m² split-level, comfortable for eight/nine persons. The Lodge is situated in familyfriendly Årebjörnen In the hallway is room for (winter-)coats and jackets.
There also is a drying cupboard for wet clothes after an active outdoor day on the slopes. The apartment has a baby chair, television, CD- and DVD-player, I-Pod docking station and a wireless internet connection.

The living room is stylishly furnished with a comfortable long dining table fit for twelve persons and a royal lounge sofa, from where you can relax and enjoy the fireplace together with the fantastic view.

The kitchen is fully equipped for modern cooking; more than enough porcelain and cutlery for twelve persons, refrigerator/freezer, induction cooker, (hot air) oven, microwave, dishwasher, a fruit and vegetable juicer and a blender.

For coffee lovers; a Nespresso coffee machine is available (note: bring your own cups). Of course, there is also a regular coffee machine.

The apartment has one master bedroom and two bedrooms with double beds. The fourth bedroom has a loftbed fit for two persons (or three small children). It's a bunkbed, 120 cm down and 90 cm upper bed. There is also a small wooden baby bed and a baby camping bed available. The hotel beds are made by the luxurious Swedish brand Kinnabädden.

The apartment has two bathrooms; one bigger bathroom (on entrance level) and one smaller at the split level. The bigger bathroom has a bathtub and, according to Swedish tradition, a sauna. Both bathrooms have a double sink, toilet and a shower. There is a washing machine with a built in dryer and a professional hairdryer.

This object has these conveniences:
Separate bedrooms
TV or TV/video
Satellite dish
Fireplace
Cooking possibilities
Microwave oven
Refrigerator/freezer
Dishwasher
Washing machine and/or drying cabinet
Shower and/or bathtub
WC
Sauna
Garden
Veranda/porch
Outdoor sitting area
Electricity/water cost included
Smoking indoors is prohibited
Pets are not allowed
In the surrounding; distance to closest...
Grocery store (1 km)
Pharmacy (5 km)
Bank (5 km)
Restaurant (700 m)
Shops (1 km)
Liquor shop (5 km)
Night life (1 km)
Closest neighbour (Outside the door)
Forest (Outside the door)
Mountains (Outside the door)
Beach (1 km)
Lake (1 km)
Bathing place (5 km)
Swimming pool (5 km)
Canoe rentals (5 km)
Bicycle rentals (5 km)
Playground (Outside the door)
Mini golf (5 km)
Hunting (Outside the door)
Fishing (1 km)
River rafting (10 km)
Hiking trail (Outside the door)
Golf (10 km)
Horseback riding (8 km)
Downhill skiing (100 m)
Cross country skiing (50 m)
Ice skating rink (10 km)
Snowmobile driving (Outside the door)
Dog sledding (1 km)
Train station (5 km)
Bus station (5 km)
Bus stop (1 km)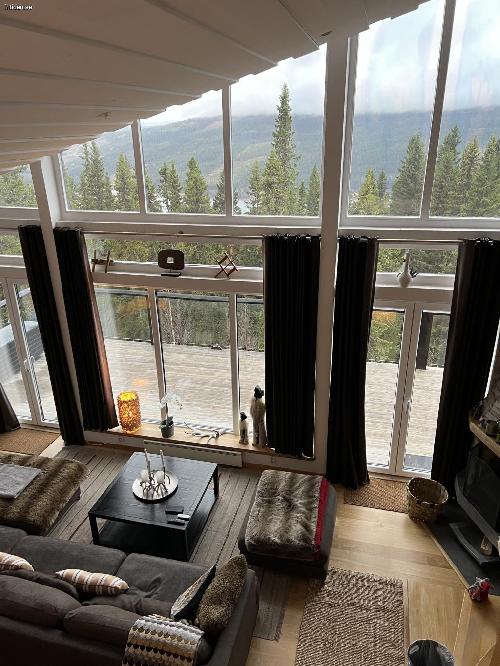 Size information
| | |
| --- | --- |
| Beds: 8 | Living area: 135 m² |
| Rooms: 4 | |
Current pricing
High season: From 15200 SEK/week
Low season: From 8990 SEK/week
Available weeks
High season: 2, 3, 4, 5, 6, 7, 8, 9, 10, 11, 12, 13, 14, 15, 16, 17, 18, 50, 51, 52
Low season: 19, 20, 21, 22, 23, 24, 25, 26, 27, 28, 29, 30, 31, 32, 33, 34, 35, 36, 37, 38, 39, 40, 41, 42, 43, 44, 45, 46, 47, 48, 49
Always send a rental inquiry through fritiden.se to confirm that the above weeks still are available.
Let by
Cia Carlsson
Falken 14
83013 Åre
Phone: +46706023002
Cellular: +31654363904
Email: Send a rental inquiry
Web site: Exists, link on fritiden.se
Cia Carlsson is responsible for the entire content in this ad. The object has number 14355 and the ad is last updated 2020-01-01 12:19:11.