Experience the magic of Visby and the island of Gotland, all through the year.

We offer a modern apartment with new furniture on the 12th floor with modern lifts.
Panoramic views over the whole of Visby and the Baltic Sea. Usually offers fantastic sunsets.

2 rooms with walk-in wardrobe, bathroom, bar counter and a glazed 20 m2 terrace for all year round use of.

Room for 2 adults and 2 children.

In the bedroom we have a new exclusive double bed with Woolbed mattress, 180 cm wide. The living room has a new sofa bed with space for two smaller children or one adult.
If required we can bring in a folding bed with good mattresses for a small supplement.

TV-QLED and fast internet is included.
1 free parking space.

Proximity to sea baths.

We charge a deposit of SEK 1000 in connection with the arrival for keys and cleaning.

We can also offer:
Ladies or gents bikes for SEK 250 / piece/week.

2.5 km to the nearest grocery store.
2 km from Visby Airport and Gotska Golf Club and 5 km to Lugnets Golf Course.

Take a stroll, along the sea or take the hand of your loved one and walk the "lovers path" through the beach forest. 4 km will just seem like nothing when you enjoy the walk.

Stroll around in the World Heritage walled city of Visby. Enjoy some of Swedens best restaurants. Get happily lost in narrow streets and enjoy the Botanical garden of "the Swimming Gentlemen".

Gotland has special features every summers week; starting with Midsummer followed by Almedalsweek, (first week of June) when all of Sweden´s top politician take turns to give a speech to the general public in the Almedalen park by the sea.
The culmination comes by the end of the summer when in the first week of August the town and its people return to their medieval roots during the Medieval week, followed by the Art and the Crime week were you always will have a chance to meet some of Sweden's best crime writers.

Then, by end of August, when most people think that the Swedish summer is over the Gotlands 5th season commence which offers warmth and tranquility, that will linger on until the beginning of October.

Close to the apartment just 300 meters up the road you will find road 149, Lummelundsväg, which passes many of Gotland's attractions, with cycle path to town and to the north towards Krusmyntagården, a spice paradise, and the Lummelunda caves.
Further north to Gotland's highest rauk "the Virgin" in Lickershamn where local fishermen sell freshly caught smoked fish. Continue north to Ihre Farm, follow the northern coast towards Bungenäs and swim in the Blue Lagoon and then continue to Fårösund and Ingmar Bergman´s Fårö.

> We protect the property's pleasant neighborhood and therefore only rent to calm and caring guests. No smoking, no pets, no parties. - For a pleasant stay for all of us.

This object has these conveniences:
Separate bedrooms
TV or TV/video
Cooking possibilities
Microwave oven
Refrigerator/freezer
Dishwasher
Washing machine and/or drying cabinet
Shower and/or bathtub
WC
Outdoor sitting area
Swimming pool
Electricity/water cost included
Smoking indoors is prohibited
Pets are not allowed
In the surrounding; distance to closest...
Grocery store (3 km)
Pharmacy (4 km)
Bank (4 km)
Restaurant (4 km)
Shops (4 km)
Liquor shop (4 km)
Night life (4 km)
Closest neighbour (Outside the door)
Forest (50 m)
Archipelago (40 km)
Ocean (100 m)
Beach (100 m)
Lake (20 km)
Bathing place (100 m)
Swimming pool (50 m)
Boat rentals (40 km)
Canoe rentals (40 km)
Bicycle rentals (4 km)
Playground (100 m)
Football/soccer field (4 km)
Mini golf (1 km)
Fishing (4 km)
Hiking trail (100 m)
Golf (3 km)
Tennis (200 m)
Horseback riding (10 km)
Diving (4 km)
Bus station (4 km)
Bus stop (500 m)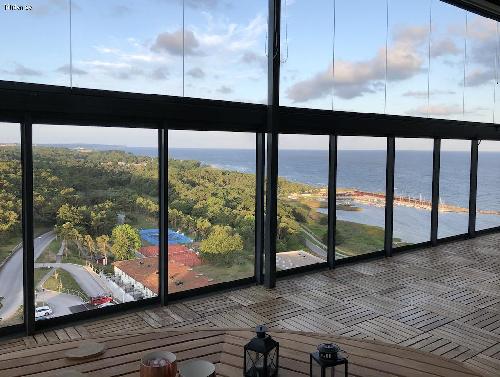 Size information
| | |
| --- | --- |
| Beds: 3 | Living area: 50 m² |
| Rooms: 2 | |
Current pricing
High season: From 10000 SEK/week or 1700 SEK/day
Low season: From 5000 SEK/week or 1250 SEK/day
Available weeks
High season: 26, 27, 28, 29, 30
Low season: 14, 15, 16, 17, 18, 19, 20, 21
Always send a rental inquiry through fritiden.se to confirm that the above weeks still are available.
Let by
Martin Mousa
Snäckbacken 8
621 41 Visby
Phone: 0703-227730
Email: Send a rental inquiry
Web site: Exists, link on fritiden.se
Martin Mousa is responsible for the entire content in this ad. The object has number 15533 and the ad is last updated 2020-06-19 09:02:07.