Please take a look at our welcoming cottage in Eksta, south of Klintehamn. Your trip takes you approx 45 km´s south of Visby. The house is situated on lively countryside with less than 15 km to nearest village with small but well equipped shoppingcenter either in Klintehamn or Hemse. You will reach the nearest coast within 5 km with the wonderful small harbour of Djupvik where you´ll find a small new hotel with it´s acknowledged restaurant.

Plan of the cottage: There is kitchen, living room and wc with shower on the first floor. On upper floor there is two bedrooms for 2 persons in each. (approx 55 m2 all in all) In the livingroom there is table for up to 10 persons, a coach and tv. Chair for one small child is in place for you as well as furniture for barbeque and rest outside.

The kitchen is wellplanned and you´ll find stove with oven, freezer, fridge and a micro.

Parking: There is place for cars on a generous parkinglot outside the gate.
Bikes may be tried as they are… Take care!

- x - x -

The "Guesthouse" you can see as a separate object #14586. It is smaller but similarly equipped and is also possible to rent. 2 + 2 beds. The price is 500 SEK less than listed for "Fryshuset". Both houses has though they are placed close to each other their own integrity separated by a traditional gotlandic fence.

For both houses - all guests are asked to bring own sheets and towels. High speed internet and TV is provided by optic fibre.

In the guestbook you can, as earlier guests, share some lines about staying in Eksta, about some highlights or other experiences – maybe about some nice food or recepies you´ve tried.

Best regards – have a wonderful stay!

This object has these conveniences:
Separate bedrooms
TV or TV/video
Cooking possibilities
Microwave oven
Refrigerator/freezer
Dishwasher
Shower and/or bathtub
WC
Garden
Veranda/porch
Outdoor sitting area
Barbecue possibilities
Electricity/water cost included
Smoking indoors is prohibited
Pets are welcome
In the surrounding; distance to closest...
Grocery store (10 km)
Pharmacy (10 km)
Bank (10 km)
Restaurant (5 km)
Shops (10 km)
Liquor shop (10 km)
Ocean (5 km)
Beach (6 km)
Bathing place (6 km)
Bicycle rentals (10 km)
Playground (10 km)
Football/soccer field (600 m)
Mini golf (10 km)
Golf (20 km)
Horseback riding (10 km)
Bus station (10 km)
Bus stop (5 km)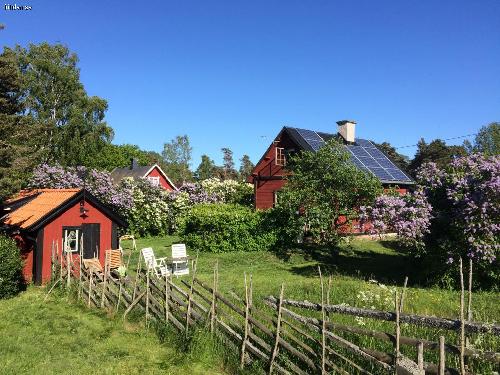 Size information
| | |
| --- | --- |
| Beds: 5 | Living area: 55 m² |
| Rooms: 3 | |
Current pricing
High season: From 5500 SEK/week
Low season: From 5000 SEK/week
Available weeks
High season: 34
Low season: 35, 36, 37, 38
Always send a rental inquiry through fritiden.se to confirm that the above weeks still are available.
Let by
Helen Friberg
sturegatan 14
70214 Örebro
Phone: 0703-124474
Cellular: 0760-235423
Email: Send a rental inquiry

Helen Friberg is responsible for the entire content in this ad. The object has number 958 and the ad is last updated 2022-01-03 14:10:51.