Modern cottage built in 2014 with lake view. The cottage is located on a small farm with undisturbed location. Beautiful surroundings with meadows, groves and grazing cows. Fine berry and mushroom fields. Only 100 meters to the lake. Access to rowing boat, canoe and fishing. On the plot there are large grass areas.
The cottage has a large veranda with outdoor furniture and barbecue.

Fully equipped kitchen with dishwasher, stove, microwave, fridge and freezer. TV, internet and fireplace with free access to firewood. The house has a bathroom with toilet, shower and sauna (with lake view). Laundry room.

Changeover day is Saturday if you rent per week unless otherwise agreed.

This object has these conveniences:
Separate bedrooms
TV or TV/video
Satellite dish
Fireplace
Cooking possibilities
Microwave oven
Refrigerator/freezer
Dishwasher
Washing machine and/or drying cabinet
Shower and/or bathtub
WC
Sauna
Garden
Veranda/porch
Outdoor sitting area
Barbecue possibilities
Electricity/water cost included
Smoking indoors is prohibited
Pets are not allowed
In the surrounding; distance to closest...
Grocery store (9 km)
Pharmacy (20 km)
Bank (2 km)
Restaurant (9 km)
Shops (20 km)
Liquor shop (20 km)
Night life (20 km)
Closest neighbour (200 m)
Forest (50 m)
Lake (100 m)
Bathing place (100 m)
Boat rentals (100 m)
Canoe rentals (100 m)
Fishing (100 m)
Hiking trail (30 km)
Golf (20 km)
Tennis (20 km)
Downhill skiing (30 km)
Cross country skiing (30 km)
Train station (40 km)
Bus station (20 km)
Bus stop (9 km)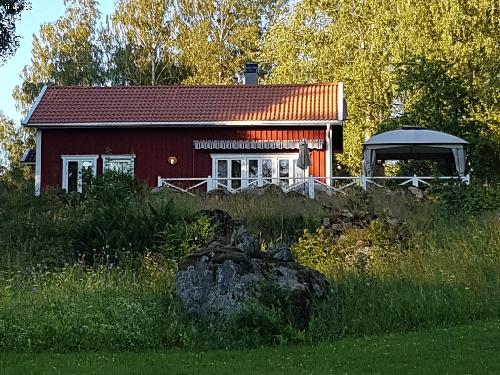 Size information
| | |
| --- | --- |
| Beds: 4 | Living area: 65 m² |
| Rooms: 3 | |
Current pricing
High season: 5500 SEK/week or 1000 SEK/day
Low season: 3500 SEK/week or 700 SEK/day
Available weeks
Low season: 36, 37, 38, 39, 40, 41, 42, 43, 44, 45, 46, 47, 48, 49, 50, 51, 52
Always send a rental inquiry through fritiden.se to confirm that the above weeks still are available.
Let by
Ewa Averland
Phone: 076-6266654
Email: Send a rental inquiry

Ewa Averland is responsible for the entire content in this ad. The object has number 15364 and the ad is last updated 2020-08-14 10:53:17.