Welcome to our paradise! North of Quito in Ecuador, you will find this amazing hotel resort in the Andean mountains where you can live in the clouds.

Surrounded by beautiful vegetation, there are several warm and cozy rooms and cabins, including two treehouses with spectacular views.

If you are looking for a place to be alone, read, contemplate the mountains, walk in peace enjoying the aroma of wild mint or the fragrance of fruit trees then simply "do it" on the Montaña de Luz. Receive the energy of nature in the areas for yoga, reiki, meditation or contemplating the life that grows along the paths that take you to the Garden of Olives, to the Zen garden. A few more steps and you will enjoy the San Francisco garden and the Desert Garden on a walk that can end at the Paseo del Paraíso or the Paseo de las Coníferas y de las Palmeras.

There are 9 rooms, all with bathrooms:

- 6 rooms with a queen-size bed and a single bed
- 1 room with a queen-size bed and a bunk bed
- 1 room in a private treehouse with a queen-size bed and a couch
- 1 room in a private treehouse with a bunk bed

Here you will live and eat well. Our restaurant offers an atmosphere as fresh and bright in the morning, as warm at night in the light of a cast iron fireplace. The food is prepared in wood ovens with products from organic gardens rescuing the Andean ancestral flavors.

Please contact for current prices. We can promise you a very unique and fascinating experience for a very modest price.

See more pictures on our Web site https://www.montañadeluz.com and Facebook-page https://www.facebook.com/montanadeluzec/

This object has these conveniences:
Separate bedrooms
Fireplace
Shower and/or bathtub
WC
Garden
In the surrounding; distance to closest...
Restaurant (Outside the door)
Mountains (Outside the door)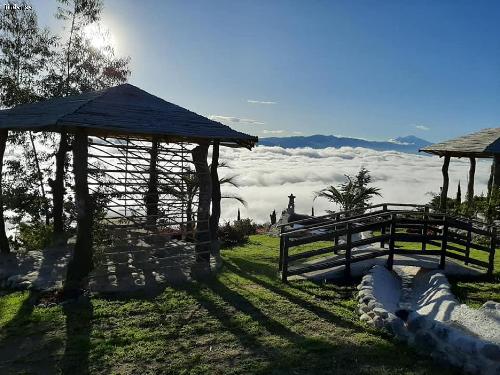 Size information
| | |
| --- | --- |
| Beds: 26 | Living area: 150 m² |
| Rooms: 9 | |
Current pricing
No information
Available weeks
No information
Always send a rental inquiry through fritiden.se to confirm that the above weeks still are available.
Let by
Montana De Luz
Sol Madera
San Juan Loma, Parroquia Pablo Arenas, Canton Urcuqui
00000 Imbabura
Ecuador
Phone: +(593) 96-252-6762
Cellular: +(593) 98-414-8404
Email: Send a rental inquiry
Web site: Exists, link on fritiden.se
Sol Madera / Montana De Luz is responsible for the entire content in this ad. The object has number 15612 and the ad is last updated 2020-03-19 22:37:59.