Nice townhouse in Västervik close to activity, swimming and town, during June-August or longer if you wish to rent later. You can rent about 95 square meters divided into 3 rooms and kitchens (a room that has not been rented is not included). One of the bedrooms is on the attic and it has two large skylights. The kitchen is equipped with dishwasher, pantry, fridge and freezer, coffee maker, waffle iron, sandwich iron, micro and much more.
There is a small garden in front and a little larger behind the townhouse. The garden contains some grass and lots of flowers and is really nice, if I may say so myself. Porch is also on both front and back. In the front there is morning sun, with nice breakfast space, and in the back there is evening sun. Playground is right next to my townhouse. It is a quiet townhouse area with no car roads but bike lanes. Laundry room is available in common room. I normally live in the townhouse so it is well equipped. There are 4 beds and also access to travel cot for toddlers. Cot and additional bed can be arranged.
Other: Wifi via fiber, small barbecue, hammock, three-wheeler and kick-bikes for children, toys for indoor play and some toys for the sandbox, comfortable armchairs on the evening porch that are under the roof. Parking very close to the townhouse.
Smoking is prohibited indoors. Pets are allowed. The plot is fenced. Bed linen and towels / beach towels can be rented for 50 SEK / person.
Admission is on Sundays at 2 pm and departure at 11 am and then it should be clean and nice.

This object has these conveniences:
Separate bedrooms
TV or TV/video
Cooking possibilities
Microwave oven
Refrigerator/freezer
Dishwasher
Shower and/or bathtub
WC
Garden
Veranda/porch
Outdoor sitting area
Barbecue possibilities
Electricity/water cost included
Smoking indoors is prohibited
Pets are welcome
In the surrounding; distance to closest...
Grocery store (300 m)
Pharmacy (2 km)
Bank (2 km)
Restaurant (1 km)
Shops (2 km)
Liquor shop (2 km)
Night life (2 km)
Closest neighbour (Outside the door)
Forest (300 m)
Archipelago (2 km)
Ocean (2 km)
Beach (2 km)
Lake (2 km)
Bathing place (2 km)
Swimming pool (1 km)
Boat rentals (2 km)
Canoe rentals (8 km)
Bicycle rentals (2 km)
Playground (Outside the door)
Football/soccer field (600 m)
Mini golf (2 km)
Fishing (2 km)
Hiking trail (2 km)
Golf (2 km)
Tennis (1 km)
Horseback riding (5 km)
Train station (2 km)
Bus station (2 km)
Bus stop (100 m)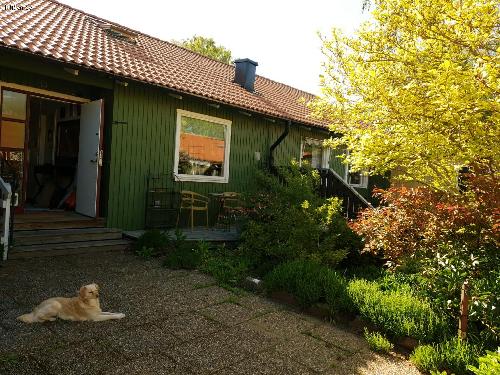 Size information
| | |
| --- | --- |
| Beds: 4 | Living area: 100 m² |
| Rooms: 3 | |
Current pricing
High season: 5990 SEK/week
Low season: 3990 SEK/week
Available weeks
High season: 25, 26, 27, 28, 30, 31
Low season: 24, 32, 33, 34, 35, 36, 37, 38, 39, 40, 41
Always send a rental inquiry through fritiden.se to confirm that the above weeks still are available.
Let by
Elisabet Gunnarsson
Skyttegatan 3 B
59354 Västervik
Phone: 070-5605664
Email: Send a rental inquiry

Elisabet Gunnarsson is responsible for the entire content in this ad. The object has number 15667 and the ad is last updated 2020-07-01 13:43:48.