Vemdalen has a fantastic skiing

Click a link below to find vacation homes, apartments, and other accommodations to rent.
Vemdalen is set in the delightful Härjedalen. Here are located the popular skiing areas Björnrike and Vemdalsskalet, as well as Klövsjö/Storhogna that are a bit further away, and they have gone together with for example a common lift card. All areas are located within a 4 Swedish mile radius. The facilities are operated by SkiStar.
The third largest ski area in Sweden, Vemdalen is known to be sure of snow and have good skiing. The ski area usually have plenty of snow all winter and here are 55 nice slopes and 34 lifts. Another advantage of Vemdalen is that it is relatively close to central Sweden, where many of its tourists come from. In the area of Vemdalen there are plenty of activities both summer and winter. In summer you can enjoy the beautiful mountains by hiking in the national park, biking, or canoeing. You can fish, swim, and play golf. Or how about a wildlife safari or just enjoy nature and its beauty. In winter there are all the traditional things with alpine skiing (slalom), cross-country skiing, snow scooters, sleigh rides, and ice climbing. Or why not go ice skating when the weather is at its best.
Accommodation is available in all forms, ranging from a traditional cottage to rent or an apartment, to hotel and youth hostel or camping. Book early or late in the season if you want good prices and avoid the crowds. Bring your own equipment or do like many others, rent right there.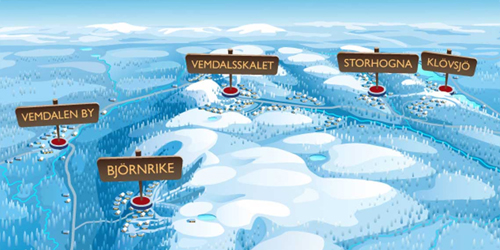 Björnrike
Björnrike has 16 slopes and 11 lifts in ski area. The slopes are both long and wide so it's perfect for kids and all the family. It also has the country's longest and highest, and Scandinavia's fastest chairlift named Grizzly Express with its more than 2000 meters. For those who prefer cross-country, there are nice trails for cross-country skiing. Of course you can go with for example sledding over the mountains from Björnrike to Vemdalsskalet.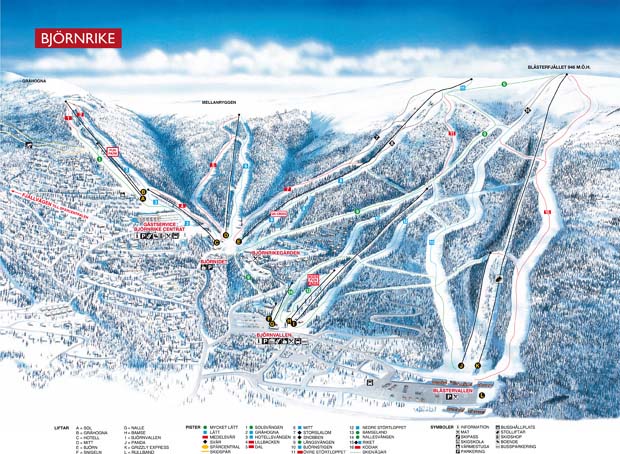 Vemdalsskalet
Vemdalsskalet is the new challenge of Vemdalen and here is the venerable Högfjällshotellet with the best from skiing to spa. There are also areas with both cottages and apartments. Previously, the most popular was mainly hunting and fishing, but now mostly downhill and skiing. The area is constantly evolving with new lifts and offers for its tourists. The fine slopes are available in both black and blue, something for everyone. And for the kids slopes are great with ski school and everything.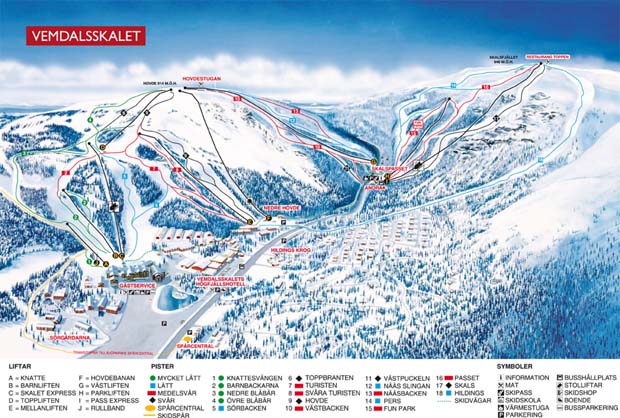 Klövsjö/Storhogna
The lift system in Klövsjö and Storhogna is today interconnected and has a total of 19 slopes and 12 lifts. Slalom in Klövsjö has been around a long time now and making this one of the oldest in Sweden, and there is constantly planned expansion of its assets. It offers varied slopes for everyone in the family, and a lovely warm shelter to enjoy a coffee and break in. Or why not a genuine mountain cheese (fjällost) on the dairy farm in Klövsjö. Incidentally, Klövsjö was namned as one of the most villages in Sweden a few years ago. Have not been here yet? Maybe it is about time!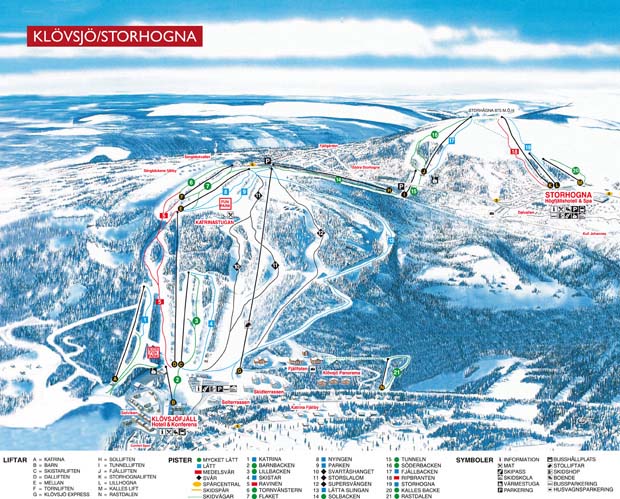 Vemdalen has good safety and snow guarantee, a warmly recommended choice for your holiday.
More information: http://www.vemdalen.se and http://www.vemdaleninfo.se
Own experiences? Write a travel story or share your tip here, or on Facebook: