Oland popular tourist destination in Sweden

Click a link below to find vacation homes, apartments, and other accommodations to rent.
Only 13 Swedish miles (130 km) long and 2 Swedish miles wide, Oland is the smallest province in Sweden but the second largest island. A holiday on Oland is one of Sweden's most sought after in the summer. Borgholm is the largest city but close thereafter are Farjestaden, Morbylanga, Byxelkrok, and Ottenby.
Oland is the given choice for hundreds of thousands of Swedes every summer holiday. The unique and beautiful scenery attracts many of course, especially the southern parts which are classified as a World Heritage. Perhaps this is what have attracted so many artists over the years. But probably the most famous are the hundreds of windmills on Oland that stretch out over the long-narrow pride of Sweden. One of the advantages of Oland as a tourist is that it is easy to get there over the Oland bridge from the mainland. But for those who want to go with the ferry so that's fine too. One can get around the island by car or bus, but maybe the best you can enjoy seeing everything from a bicycle. If you don't have a bike, you're welcome to rent one. There are three major bike trails and lots of small roads. Take your time to explore the island of Oland to its proper manner.
On Oland, there are lots of nature reserves and pleasant excursion - Trollskogen, sea stacks, limestone and lighthouses of Lange Jan (Long Jan) in the south and Lange Erik (Long Erik) in the north to name a few - so the island really offers really a smorgasbord for those who want to be active on the vacation. And if you want to take it easy sunbathing and swimming it works out as well. Why not visit one of castles of Oland? It includes the Royal Castle of Solliden and the Castle of Borgholm. There are also plenty of ancient castles and forts. For kids and those who never grows up there is Oland Zoo. There are of course plenty of restaurants and lodging. Boda Camping on the east coast is a classic. Cottages for rent are plentiful but be prepared to book in time. Experience Oland in the best way and enjoy one of Sweden's most beautiful treasures.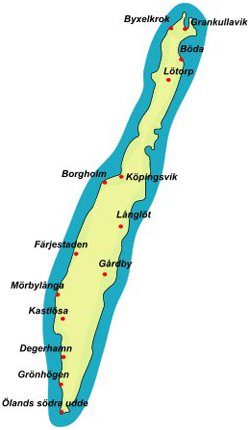 More information: http://www.olandsturist.se and http://www.olanningen.com
Own experiences? Write a travel story or share your tip here, or on Facebook: