Sälen mountains with all its places

Click a link below to find vacation homes, apartments, and other accommodations to rent.
Sälen is perhaps the most popular ski area in Sweden and located in the western Dalarna towards the border with Norway. There are seven plants in different sizes; Lindvallen, Högfjället, Tandådalen, Hundfjället as well as Stöten, Kläppen, and Näsfjället. The classic Sälen for the mountain holidays is perhaps Högfjället with its venerable hotel Högfjällshotellet, and the child-friendly Lindvallen and Hundfjälllet, as well as Tandådalen that might also appeal to those seeking a little more advanced skiing. All these four ski resorts are located near each other and managed by SkiStar.
What's not cozier than renting a cottage with a fireplace located on the mountains where you can choose whether to go downhill slalom skiing or snowboarding all day with afterski afterwards and then a sauna, or maybe just go outside the door to go cross-country skiing with a hot chocolate on Gammelgården afterwards. There are lots of cozy mountain cabins for rent but there are also other accommodations such as apartments or hotels. Sälen is a beloved paradise for many. Most go for a week but it has also become popular to go for a weekend or long-weekend. The Easter and winter holidays are the most popular periods, as well as Christmas and New Year in winter. But summer also has much to offer in the mountains.
You need never be bored in Sälen. Besides the obvious of skiing in fabulous slopes that fit everyone in the family, there is also a plethora of restaurants, shops, shows, concerts with famous artists and tons of entertainment and other culture. On the days you can go dog sledding, rent a snow scooter, or hike. Or why not just be calm and enjoy the time off with your family. There is something for everyone. And the beauty is that it is you who decides.
Another advantage of Sälen is that it is just a few steps from wonderful Trysil in Norway that offers even more and longer slopes. Perfect for the whole family, especially the children. It makes one wonder how to have time with all the fun. Book early and take your time.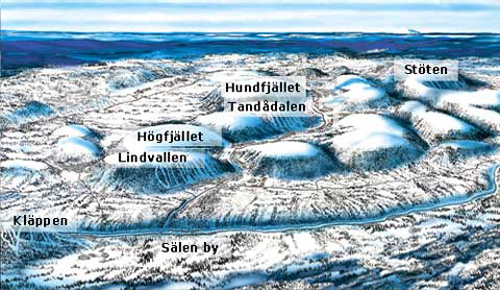 Lindvallen
Lindvallen is perhaps one of the most popular travel destinations in Sälen and perfect for families. Högfjället is not far from there and together they share a total of 51 slopes and 48 lifts. There is a large children's area with button lifts and Lindvallen also has one of the largest ski schools, so it's perfect for the beginner. But there are also many fine slopes for the advanced. Then there are lots of cozy restaurants and amusement parks such as Experium where you can swim, surf, relax at the spa, going to the movies, or go bowling if you are eager to do anything other than skiing a day and still get entertainment of the highest level.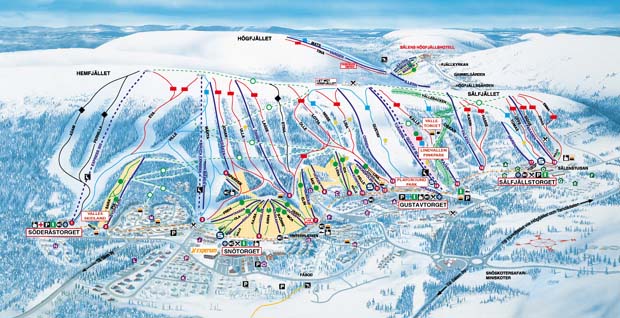 Högfjället
Högfjället is one of the smallest areas in Sälen but the connection with Lindvallen means that the supply is great. The broad slopes of Högfjället suit the entire family and everything is close. Here is also the hotel Sälens högfjällshotell since almost 80 years back that is packed with entertainment in all its forms. Its afterski is a classic and in the evening you can enjoy the piano bar or live music and dancing, not to mention all this good food in its restaurants. Additionally, there is a supermarket, ski shop, and much more.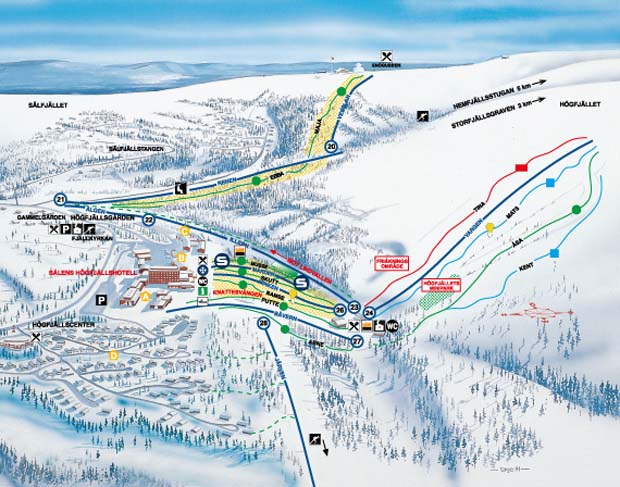 Tandådalen
Tandådalen is the facility with most black slopes in Sälen and now a SuperPark which is one of the largest in Sweden. It is the area that gives more to those who want a little bit more challenging, but also ski slopes that are kinder if you want. You bring food and stop and eat it in the slopes while others go by or enjoy any of its restaurants, and the famous afterski with live music. You will also go to Hundfjälllet with a lift from Tandådalen, and together they have 54 slopes and 36 lifts.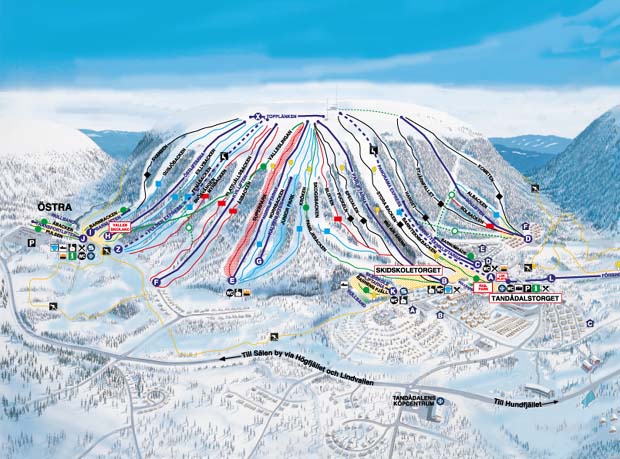 Hundfjället
Hundfjället have a varying and long ski slopes, ranging from children's slopes as Trollskogen to the notorious and dreaded Väggen (The Wall) that is just as steep as it sounds like. Hundfjälllet offers many beautiful slopes with fine woods and mixed skiing. The longest slope is 1200 meters. On the top of Hundfjälllet is also a restaurant called Lyktan (The Lantern), and you get there with the 8-seater chairlift E8:an which was the first one in Sweden. Since Hundfjälllet is linked to Tandådalen, you can easily go between the two on skiis with a lift.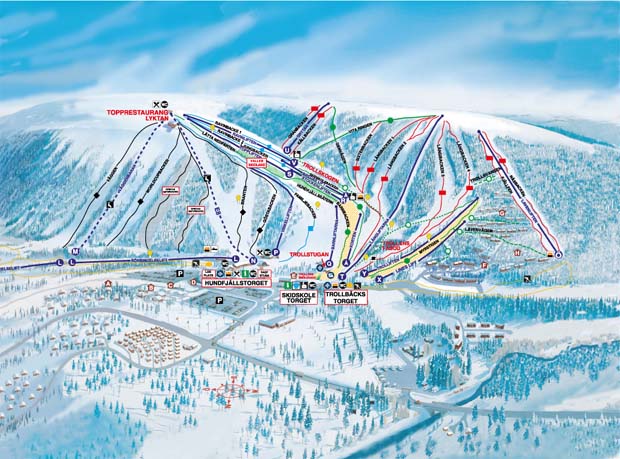 Stöten
Stöten is about 4 Swedish miles (40 km) north of the other ones. There are 32 slopes and 18 lifts. Here is also the longest slope called Mormors Störtlopp (Grandmom's Downhill) and is at 2600 meters. The name Stöten comes from the mountain Granfjällsstöten that it lies on. Here there are lots of restaurants and bars, ski school and ski hire, shops, swimming, bowling, and spa. For those who prefer cross-country skiing, there are three cross-country trails, of which one is lighted for night skiing.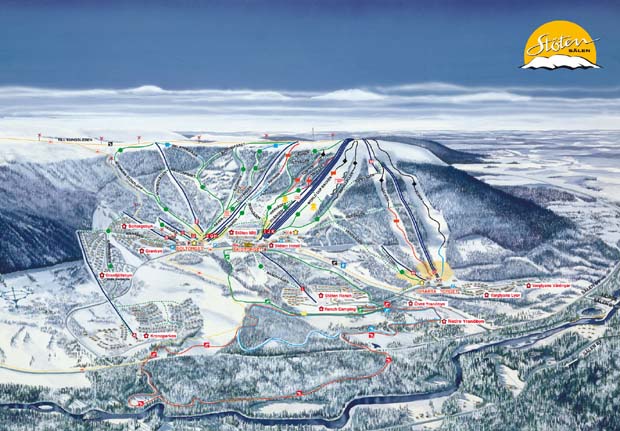 Kläppen
Kläppen is about 2 Swedish miles south of the main ski area of Sälen. Here there are 34 slopes and 21 lifts. Most slopes are green and there are some blue, red and black and 4 snowparks (best in Sweden). The longest slope is 3000 meters long. There are also four different cross-country trails that together are 36 km.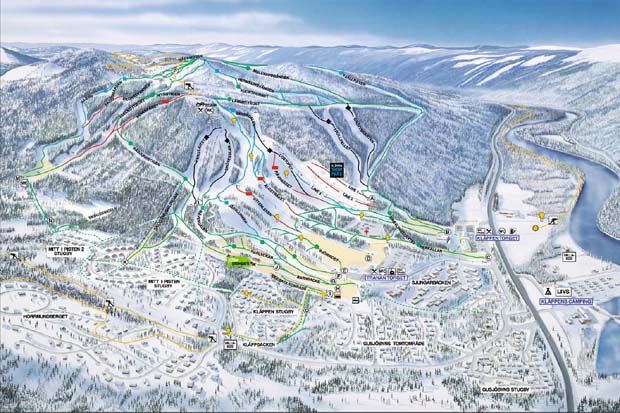 Näsfjället
Näsfjället is about 4 Swedish miles north of Sälen and is the northernmost of them all. It also has 4 Swedish miles to both Trysil in Norway and Idre. Perfect if you like Sälen as it was in the old days. Here there is perhaps a little less people and more nature. Overall there are 11 ski slopes and over 15 km of cross-country trails on Näsfjället. Come and enjoy!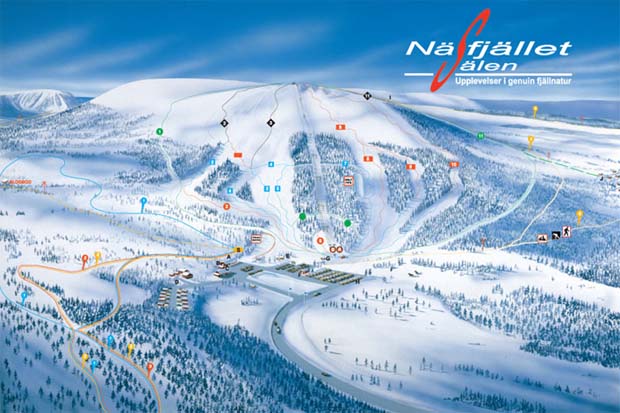 More information: http://www.salen.se and http://www.salen360.com
Own experiences? Write a travel story or share your tip here, or on Facebook: